C-Myc-Tag Mouse Monoclonal Antibody(3E8)

Catalog

XHY002M

XHY002L

Quantity

50µL

100µL
For research use only.
Applications: WB, IP, IF
Species Cross-Reactivity: N/A
Molecular Weight: N/A
Isotype: IgG1
Storage Buffer & Condition: PBS, pH 7.4, containing 0.02% sodium azide as Preservative and 50% Glycerol.
Store : -20°C. Do not aliquot the antibody.
Recommended dilutions: WB: 1:5,000 IP:1:200 IF:1:1,000
Optimal dilutions should be determined by the end user.
Specificity: The C-Myc tag antibody can detect C-Myc fusion proteins.
Background: c-Myc-tag antibody is part of the Tag series of antibodies, the best quality in the research. Myc
protein is a transcription factor that activates expression of a great number of genes through binding on
consensus sequences (Enhancer Box sequences (E-boxes)) and recruiting histone acetyltransferases (HATs).
A recent study demonstrated that temporary inhibition ofMyc selectively kills mouse lung cancer cells,
making it a potential cancer drug target.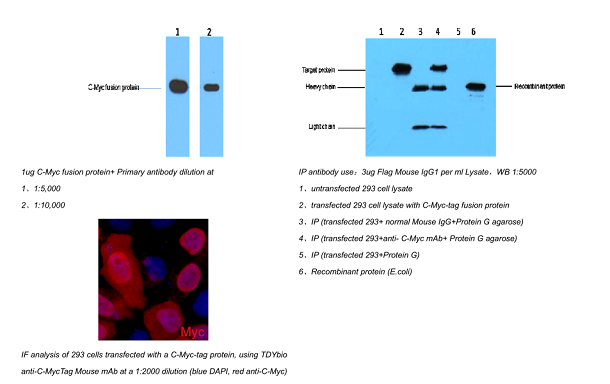 Applications:WB-Western blot IHC-Immunochemistry IF-Immunofluorescence IP-Immunoprecipitation
ChIP-Chormatin Immunoprecipitation
Reactivity: H-Human R-Rat M-Mouse Mk-Monkey Dg-Dog Ch-Chicken Hm-Hamster Rb-Rabbit Sh-Sheep