HA-Tag Mouse Monoclonal Antibody(1B10)

Catalog

XHY003M

XHY003L

Quantity

50µL

100µL
For research use only.
Applications: WB, IP, IF
Species Cross-Reactivity: N/A
Molecular Weight: N/A
Isotype: IgG1
Storage Buffer & Condition: PBS, pH 7.4, containing 0.02% sodium azide as Preservative and 50% Glycerol.
Store : -20°C. Do not aliquot the antibody.
Recommended dilutions: WB: 1:5,000 IP:1:200 IF:1:1,000
Optimal dilutions should be determined by the end user.
Specificity: The HA tag antibody can recognize C-terminal, internal, and N-terminal HA-tag fusion proteins.
Background: Human influenza hemagglutinin (HA) is a surface glycoprotein required for the infectivity of the
human virus. The HA tag is derived from the HA-molecule corresponding to amino acids 98-106 has been
extensively used as a general epitope tag in expression vectors. Many recombinant proteins have been
engineered to express the HA tag, which does not appear to interfere with the bioactivity or the biodistribution
of the recombinant protein.HA tag antibody is a highly sensitive and affinity monoclonal antibody applicable to
HA-tagged fusion protein detection.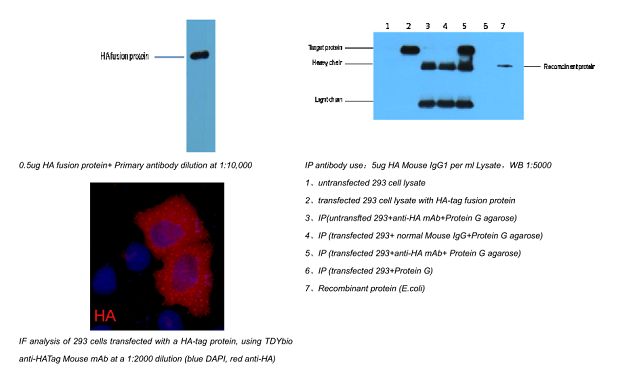 Applications:WB-Western blot IHC-Immunochemistry IF-Immunofluorescence IP-Immunoprecipitation
ChIP-Chormatin Immunoprecipitation
Reactivity: H-Human R-Rat M-Mouse Mk-Monkey Dg-Dog Ch-Chicken Hm-Hamster Rb-Rabbit Sh-Sheep