β-actin Mouse Monoclonal Antibody(5B7)-HRP

Catalog

XHY056M

XHY056L

Quantity

50µL

100µL
For research use only.
Applications: WB, IHC
Species Cross-Reactivity: H, R, M, Mk, Dg, Ch, Hm, Rb, Pg, Sh
Molecular Weight: 43KD
Isotype: IgG1
Storage Buffer & Condition: PBS, pH 7.4, containing 0.02% sodium azide as Preservative and 50% Glycerol.
Store : -20°C. Do not aliquot the antibody.
Recommended dilutions: WB: 1:2,000-5,000 IHC: 1:100
Optimal dilutions should be determined by the end user.
Specificity: Antibody can detects endogenous β-actin protein
Background: β-actin is one of six different actin isoforms that have been identified. The actin molecules found
in cells of various species and tissues tend to be very similar in their immunological and physical properties.
Therefore, antibodies against β-actin are useful as loading controls for Western Blotting. However it should be
noted that levels of β-actin may not be stable in certain cells. For example, expression of β-actin in adipose
tissue is very low and therefore β-actin should not be used as loading control for these tissues..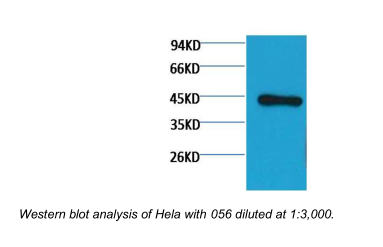 Applications:WB-Western blot IHC-Immunochemistry IF-Immunofluorescence IP-Immunoprecipitation
ChIP-Chormatin Immunoprecipitation
Reactivity: H-Human R-Rat M-Mouse Mk-Monkey Dg-Dog Ch-Chicken Hm-Hamster Rb-Rabbit Sh-Sheep