COX IV Mouse Monoclonal Antibody(TDY100A-6C8)

Catalog

XHY046M

XHY046L

Quantity

50µL

100µL
For research use only.
Applications: WB
Species Cross-Reactivity: H, R, M
Molecular Weight: 15KD
Isotype: IgG1
Storage Buffer & Condition: PBS, pH 7.4, containing 0.02% sodium azide as Preservative and 50% Glycerol.
Store : -20°C. Do not aliquot the antibody.
Recommended dilutions: WB: 1: 1,000-3,000
Optimal dilutions should be determined by the end user.
Specificity: Antibody can detects endogenous COX IV protein
Background: The enzyme cytochrome c oxidase or Complex IV, EC 1.9.3.1) is a large transmembrane protein
complex found in bacteria and the mitochondrion.It is the last enzyme in the respiratory electron transport
chain of mitochondria (or bacteria) located in the mitochondrial (or bacterial) membrane. It receives an electron
from each of four cytochrome c molecules, and transfers them to one oxygen molecule, converting molecular
oxygen to two molecules of water. In the process, it binds four protons from the inner aqueous phase to make
water, and in addition translocates four protons across the membrane, helping to establish a transmembrane
difference of proton electrochemical potential that the ATP synthase then uses to synthesize ATP.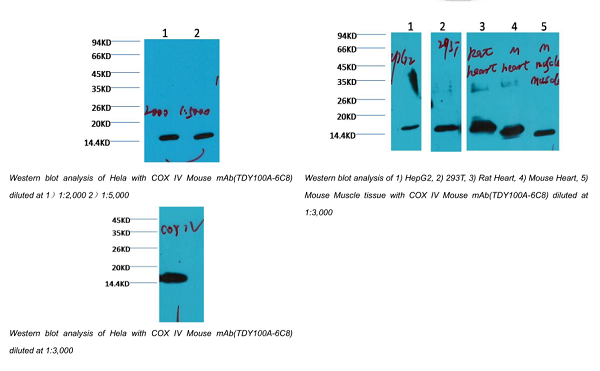 Applications:WB-Western blot IHC-Immunochemistry IF-Immunofluorescence IP-Immunoprecipitation
ChIP-Chormatin Immunoprecipitation
Reactivity: H-Human R-Rat M-Mouse Mk-Monkey Dg-Dog Ch-Chicken Hm-Hamster Rb-Rabbit Sh-Sheep