S-Tag Mouse Monoclonal Antibody(3B3)

Catalog

XHY017M

XHY017L

Quantity

50µL

100µL
For research use only.
Applications: WB
Species Cross-Reactivity: N/A
Molecular Weight: N/A
Isotype: IgG1
Storage Buffer & Condition: PBS, pH 7.4, containing 0.02% sodium azide as Preservative and 50% Glycerol.
Store : -20°C. Do not aliquot the antibody.
Recommended dilutions: WB: 1:5,000
Optimal dilutions should be determined by the end user.
Specificity: The S tag antibody can recognize S tag fusion proteins
Background: S-tag is the name of an oligopeptide derived from pancreatic ribonuclease A (RNase A).
If RNase A is digested with subtilisin, a single peptide bond is cleaved, but the resulting two products
remain weakly bound to each other and the protein, called ribonuclease S, remains active although each
of the two products alone shows no enzymatic activity. The N-terminus of the original RNase A, also called
S-peptide, consists of 20 amino acid residues, of which only the first 15 are required for ribonuclease activity.
This 15 amino acids long peptide is called S15 or S-tag.The amino acid sequence of the S-tag is:
KETAAAKFERQHMDS conjugated to KLH. S- Tag antibody can recognize C-terminal, internal,
and N-terminal S-tagged proteins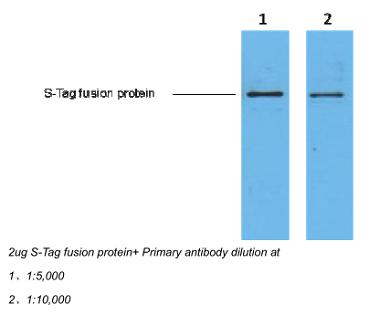 Applications:WB-Western blot IHC-Immunochemistry IF-Immunofluorescence IP-Immunoprecipitation
ChIP-Chormatin Immunoprecipitation
Reactivity: H-Human R-Rat M-Mouse Mk-Monkey Dg-Dog Ch-Chicken Hm-Hamster Rb-Rabbit Sh-Sheep